// Written by
Jordan Morgan
// Jul 31st, 2023 // Read it in about 4 minutes // RE: The Indie Dev Diaries
I don't know if you've heard, but I've been writing a book series over iOS.
Kidding, I know you've heard 😅.
Though, what is a little crazy is that I started this journey over two years ago. As best as my Twitter (not calling it X) investigations can see, I announced this on more or less February 16th, 2021:
🚀A Best-in-Class App: The Book 🚀

It's happening, I'm making this now!

✅ In-depth book covering accessibility, core iOS tech, design, user experience and more.
✅ A companion app
✅ Bite sized screencasts

Join the mailing list to follow along: https://t.co/Dc9AcfyUSL pic.twitter.com/S8sm1zPnNg

— Jordan Morgan (@JordanMorgan10) February 16, 2021
So, only a few months removed from letting go of Spend Stack. Since then, it's been a roller coaster of experiences. I'll keep it short and succinct:
Ok, I don't have an app right now - I want to write a book!
Hmm, too much for one book - I want a book series.
Announce it, open sign ups - whoa, people actually want this, awesome.
Write the first nine chapters and release it? Yup, I'll do that.
Release it! Oh my…I just made…a lot more money than I've ever made.
AWWWWWW YEEEEEEAHHH I'M UNSTOPPABLE.
About a solid year goes by, and sales remain solid.
Another year goes by, and I sell about 3-4 a week.
…and realize I'm still years away from finishing the first table of contents.
A mix of being proud of myself laced with the rich, unforgiving sting of opportunity cost mixed with pure mental exhaustion begin to overtake me 😅. I slowly start to feel a real sadness of not having my own app to work on, and realize that's a huge part of not only my identity, but something I genuinely enjoy and truly need.
Currently, I am at step 10. I need this series to be finished, and so I'm using an incredibly generous perk of my job at Buffer to do it - taking my two month sabbatical to write the rest of it.
let concatenatedThoughts = """
When I say "finished", I mean complete the original table of contents. As I'll mention later, I look forward to updating the book series for years and years to come.
"""
As you can guess, writing this thing has just been a massive, huge undertaking. I inadvertently searched for my limit, and I have found it. I'm there. I don't mean to complain, in fact - the opposite, but what I do want to do is set the stage appropriately.
The book series has been amazing, and recently a wee-bit stressful too. It truly has epitomized "Anywhere worth going takes hard work" to me. As a fun little thought exercise, I figured I'd list out the good parts and not-so-good parts that I've learned from the experience so far.
The Not-So-Fun Parts
Sometimes, I Feel like a Salesmen: The fact is, if you're going to offer something for people to buy, you have to sell it. I don't always enjoy this aspect, but you have to do it. I've tried it all: podcast sponsorships, content marketing, Twitter ads and more. Some of it works, some of it doesn't. But for me it's the mental part, which, admittedly, I probably put on myself. Even so, sometimes I get self-conscious when I send another tweet about the book series that people might just be like "Oh my gosh, we get it."
Opportunity Cost: This, by far, is the biggest thing I have learned. When I was done with Spend Stack, I said something along the lines of "All I do is write code, I don't have time to write. I love them both." Now, as you can guess, it's flipped. I sorely miss having an app to make, but I simply don't have the time - all I do is write.
W.W.D.C. Hits Different: When you don't have your own app to work on, dub dub stings. Of course, this could go in the "pros" section just as easily, because my favorite part of writing the book series is that I get to really dig into the improvements each year and write about them. But, not having my own personal app to apply them to, well - that sucks.
A Slight Identity Crisis: Who am I in this community, what is my place? For some who've started reading my blog or picked up my book series, I might seem to be an educator of sorts. One of those people who writes tutorials and such. But, I don't really view myself that way. But, I can't really say I'm an indie developer when I develop no apps. I hope to find a sweet spot sandwiched in-between both of these worlds.
A Metric Ton of Work: Obviously, doing all of this takes a lot of work. I feel like I've constantly had a college paper deadline looming over my head for the past two plus years. And that's because I have, but if I didn't set a two week update cadence, I probably never would've finished.
The Rainbows and Butterflies
I Get to Write: And I really do love writing. The book series and my experience with Spend Stack has taught me a valuable lesson: I want to write my blog, I want to update the book series and I want to make apps. But, to do those things, they each need a bit more of my attention divvied out realistically. Right now, it's 85% book series, 10% writing on my blog and 5% working on an app. That's not sustainable, but I'll be able to address it sooner rather than later.
Seemingly Evergreen Income: The book is wonderful passive income. It pays for things that are important to me; vacation with my kids, sports and other things of that nature. And, fingers crossed, I think it will stay that way for years to come as I build trust in the community in regards to the series, and my habit of updating it has already been proven. In the two plus years, I've not missed one update, and I'm proud of that.
I Learn So, So Much: I rarely write a chapter where I kinda knew what I wanted to know going in. I'm always finding little nuggets of information I wasn't aware of. People outside of our industry won't understand this, but the feeling you get when you pour over the docs and find some awesome API you didn't know about is such a dopamine rush. Here's my favorite one so far, which I uncovered writing about Quick Look:
What!! I was today year's old when I realized you can use the QuickLook framework to perform this custom view controller transition for you....

....with one delegate method 🤯

I have written this transition myself several times, and it is *not* trivial to get right! pic.twitter.com/HWgmmcGVwK

— Jordan Morgan (@JordanMorgan10) May 18, 2022
The People: Going to conferences or dub dub and having strangers (who turn into friends) come up and say "Hey, I bought your book series!" is the highlight of my trips. Not because it's an ego boost, but because it's just nice to put faces to people who've gotten some value from your work. These conversations are always lovely, along with the tweets that I see where people are reading the series on a flight or whatever.
I Did Something That Was Meaningful to Me: Writing a book series has been a "moon shot" career goal of mine. And, I've about done it. That's really awesome, and I'm just straight up proud of myself for doing it.
Final Thoughts
I am blessed to take two months off to see this through, and I'm thankful to Buffer for even offering it. I know not many can get a perk like this afforded to them.
I do want to stress something here; I am excited to work on this book series for the rest of my career, and I plan too. Right now, I'm in the trenches and getting it done. But once I'm there, it should slide into the natural cadence of my work life naturally. Updating it each year during W.W.D.C. fits in perfectly with the way that I work.
In fact, even before another dub dub - I have an extensive list of things I'd love to cover: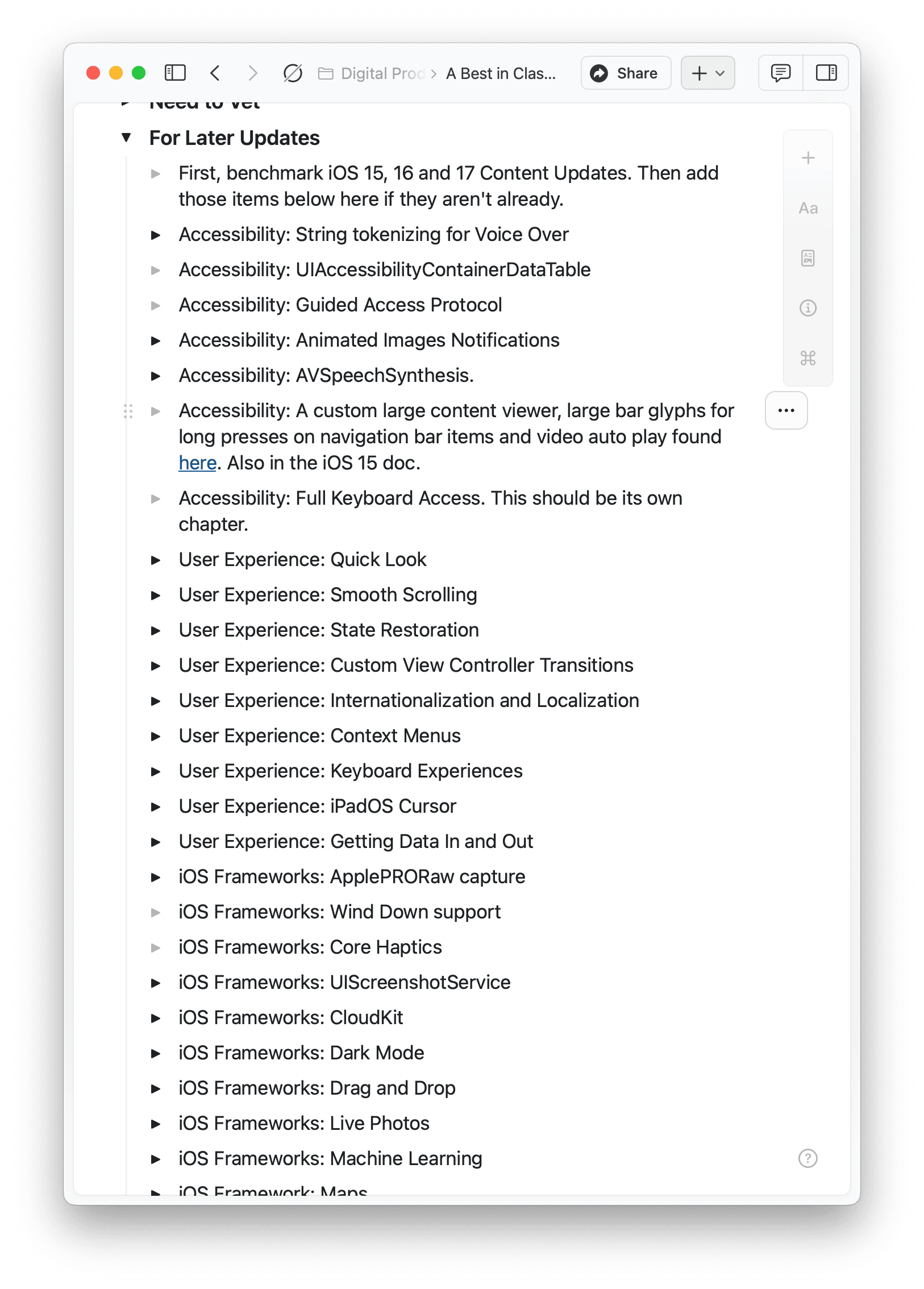 I have learned, though, that I want to do lots of things. And, if I have one project dominating all of my time - I can't. Even so, I'm grateful to have learned that. And with that, I set off for the next 8 weeks to see this thing through, and also launch my next app. Onward!
You can catch me at my new office now until November 6th 😃: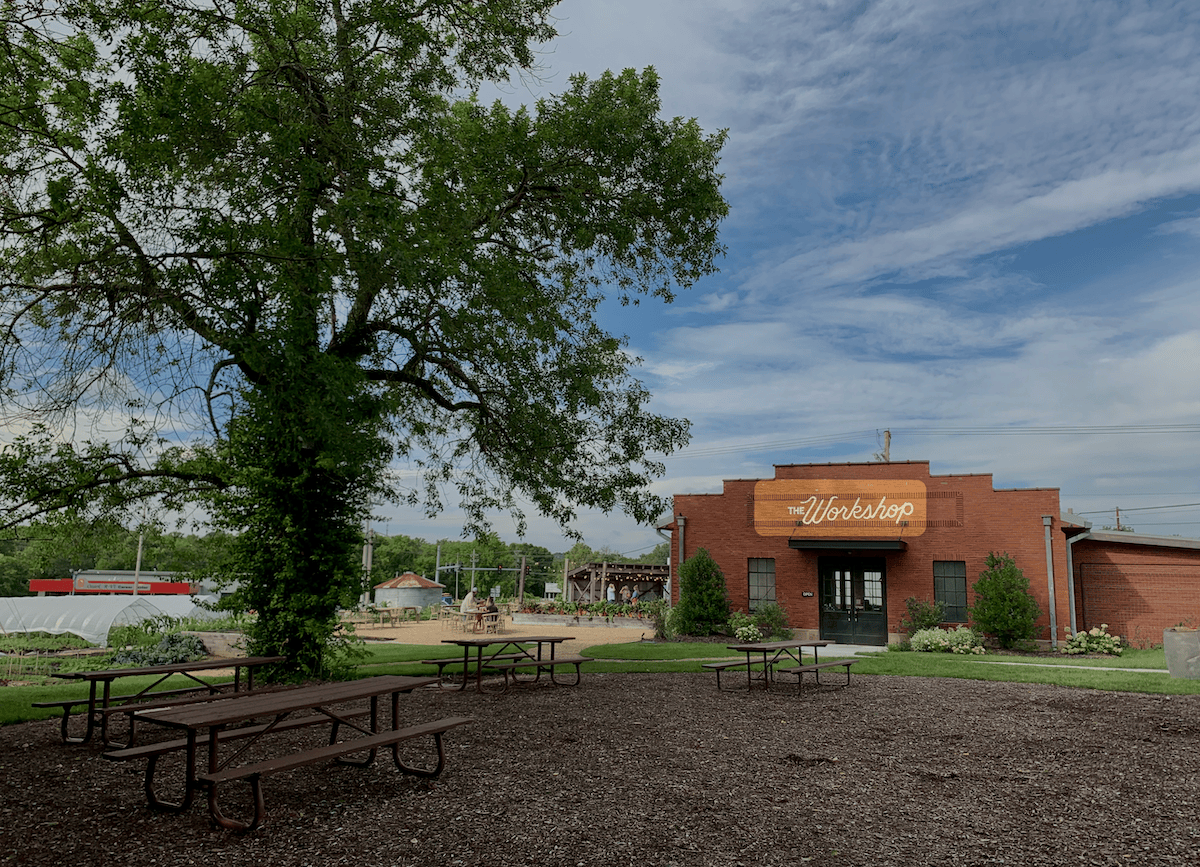 Until next time ✌️